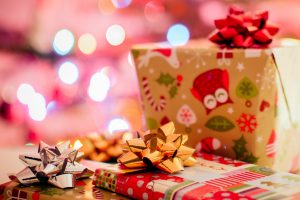 It's no secret that the holidays can be hard on your wallet. Between gift-buying, party hosting, and all the delicious food and drink you stock your kitchen with, there are a lot of extra expenses that can quickly rack up. That's why our gift to you this holiday season is a few of our best tips and tricks to save money this Christmas!
Set a budget and stick to it!
Set yourself a budget, whether you use a colour-coded spreadsheet or good old pen and paper, and make sure it's realistic. Do you really need to spend that much on wine? On food? Check in with your budget regularly over the holidays to make sure you are keeping track of your spending and staying within your financial limits.
Look for discount codes or vouchers
Many stores offer discounts and sales around the holidays. If you're looking for a specific item or gift, check a few different stores to find the best price. Sometimes stores will even price match items for you. Shopping online is a good way to save money without leaving the warmth of your home as many online retailers offer promotional codes when you sign up to their newsletters! You can also search online for discount codes and vouchers on sites such as Red Flag Deals.
Don't fret about the price tag
Christmas isn't about who can spend the most money or buy the biggest gift. Don't forget the true meaning of Christmas: spending quality time with loved ones and showing them how much you care. Sometimes the most thoughtful and meaningful gifts are the ones that don't cost a lot of money, such as something homemade.
Make homemade gifts
Instead of buying your Christmas gifts this year, make them! Are you an amateur painter or perhaps a pretty good baker? Use your hidden talents to create a thoughtful and unique gift.
Consider doing a 'Secret Santa'
When buying gifts for family, the list can often be a long one: cousins, aunts, uncles, grandparents, nieces, nephews, and more! Consider doing a Secret Santa with certain friends or family members to ease the financial burden of buying so many gifts. This way, each recipient gets one thoughtful gift, rather than a million things they don't want or need. With a Secret Santa, you can also set a financial limit, such as $50, which makes it easier to stick within your budget.
Embrace the power of potluck
Are you hosting a holiday party, or perhaps even Christmas dinner this year? The holidays are a time when we all want to indulge, but that indulgence can really rack up an expensive grocery bill. Embrace the power of the potluck! Ask friends or family to contribute to dinner by bringing one food or drink item. This will help save you money, as well as freeing up more time for you to spend with your loved ones and not in the kitchen!
Look ahead to next year
This might sound counterintuitive but, by trawling the January sales and picking up leftover Christmas gifts, decorations, and gift wrap now, you can save yourself money for next year!
The holiday season should be filled with warmth, love and joy, so we hope these tips have been useful in easing some of the stress and anxiety related to money worries at this time of year. If you are looking to buy or sell a home now or in the new year, our team of expert RealtorsⓇ would be delighted to help you. Contact us today!